Rmalls+ Privacy Policy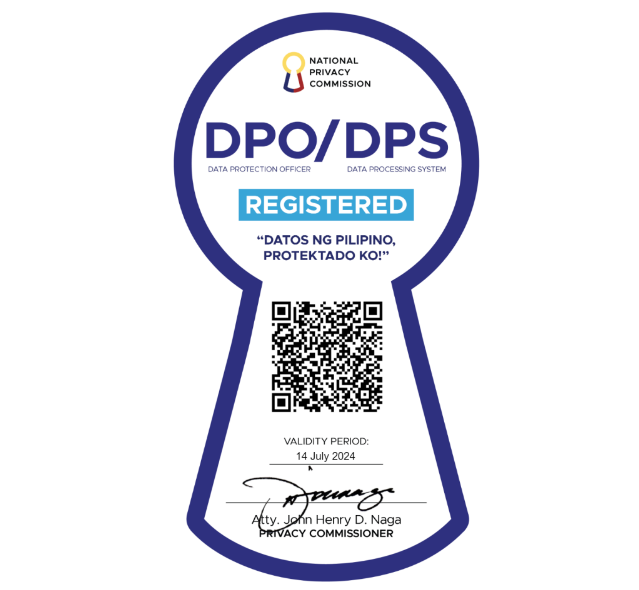 Robinsons Malls, including its parent company, subsidiaries, affiliates, officers and employees, is committed to uphold the privacy rights of individuals under the Republic Act No. 10173 (otherwise known as the "Data Privacy Act of 2012"), its implementing Rules and Regulations, and other applicable and related privacy regulations. This Privacy Policy describes how we collect, use, protect and manage your personal information, which you have provided freely and with your express consent, through this Mobile App.
We aim to give you a personalized online experience that provides relevant and helpful information, resources and services. The Privacy Policy discusses, among other things, how data obtained when using the Mobile App may be collected and used. By using the Mobile App, you agree to be bound by the terms of this Privacy Policy. If you do not accept the terms of the Privacy Policy, you may opt to discontinue using the Mobile App. This Privacy Policy is subject to change without prior notice. Please check the Mobile App regularly to see the updated Privacy Policy.
You agree that we are entitled to retain any data or information relating to your use of the Mobile App. This shall include, but is not be limited to those relating to the device used to access the Mobile App, build number of the device, local storage, cookies, and other anonymous identifiers.
We shall not use any personal data collected except in accordance with this Agreement.
We reserve the right to use the Mobile App or any of its parts or systems for advertising purposes. You agree that we can use any or all data or information that we obtained through the Mobile App, including, without limitation, your primary registered or login information, for advertising or for any other commercial or sponsored service.
By tapping on the AGREE and CONTINUE button or by continuing to use this Mobile App, and by providing your personal information, you are giving consent to the terms and conditions of this privacy policy, which may be amended, replaced, revised, updated and/or changed from time to time without notice, and to our processing of your personal information.
This Privacy Policy tells you how we process, collect, use, share, retain and protect your personal data.
All personal information collected is processed in adherence to the general principles of transparency, legitimate purpose and proportionality.
THIS PRIVACY POLICY EXPLAINS:
1. What information we collect and why we collect it;
2. How we use that information and to whom we may disclose it;
3. How we safeguard your personal information.
PERSONAL INFORMATION WE COLLECT:
We may collect your personal information when:
1. You download and register an account in our Mobile App;
2. You visit or use our websites, social media accounts, and digital platforms;
3. You purchase or avail any of our products, services, promos and activities;
4. You provide personal information in relation to inquiries, requests, complaints, surveys, promotions, and/or for any other reason.
The personal information we collect may include but is not limited to the following:
Basic personal information such as name, birthday, age, gender, civil status, nationality, mailing address, e-mail address, telephone/mobile number and other information necessary to complete a transaction and/or address your concern, request or complaint.Please note that you are responsible for ensuring that all such personal information you submit through the Mobile App is accurate, complete and up-to-date.
In addition, we may also collect information about your visit and use of our Mobile App, your browsing behavior and session lengths that are collected by our Mobile App analytics tools and cookies that are transferred to your phone, tablet or gadget.
COLLECTION AND USE OF PERSONAL INFORMATION:
Robinsons Malls collects, uses and discloses your Personal Information for the following purposes:
1. Provide a better shopping experience;
2. Provide customer service to you;
3. Notify and alert you of updated information, special offers, other new products or services, or to provide marketing or promotional materials;
4. Complete a transaction or service;
5. Manage, organize and/or operate promotional activities you participated in;
6. Ensure the Mobile App is relevant to your needs;
7. Create and publish content most relevant to you;
8. Notify you on material change to Terms & Conditions and Privacy Policy if necessary and/or when required by relevant laws and regulations;
9. Allow you to upload content to the Mobile App;
10 Contact you when you sign up for survey forms or for other inquiries;
11. Analyze, review, improve and/or develop product (s) and/or service (s);
12. Understand user experience of those who use our Mobile App;
13. Protect and defend our rights and property, including without limitation by way of legal proceedings;
14.  Meet our legal compliances and/or audit requirements;
15. Survey / research purposes to improve customer experience/satisfaction;
16. Comply with regulatory reporting and internal recordkeeping purposes; or
17. Comply with government orders or requirements, laws, rules, and regulations, or with court orders.
DIRECT MARKETING:
Your personal information (including your name, address, telephone/mobile numbers, email and other contact details) will be used to send you marketing communications such as direct-mail, email, telephone/mobile calls and SMS containing our complimentary, commercial and promotional advertisements, offers, exclusive invites, surveys, and other direct marketing we deem relevant and beneficial to you based on your preference and interest initially provided to us or made aware of. You can opt-out anytime should you prefer not to receive these notifications.
DATA TRANSFERS:
The information that we collect may be disclosed or shared to our subsidiaries, affiliates, vendors, partners, service providers, or in any of the countries in which we make use of cloud services to assist us in providing and performing our services. If necessary, a data sharing and non-disclosure agreement shall be executed between Robinsons Malls and its subsidiaries, affiliates, vendors, partners or service providers. However, these companies may only use such personal information for the purpose(s) disclosed in this Privacy Policy and may not use it for any other purpose.
RETENTION AND DISPOSAL OF YOUR PERSONAL INFORMATION:
We will only retain your personal information for as long as necessary to fulfil the purpose(s) for which it was collected or to comply with legal, regulatory and internal requirements. Thereafter your personal information shall be disposed or discarded in a secure manner that would prevent further processing, unauthorized access, or disclosure to any other party or the public.
ACCESSING AND UPDATING YOUR PERSONAL INFORMATION:
Accessing Your Personal Information
You may get in touch with us and request your personal information stored in our database. The provision of such information will require submission of appropriate proof of your identity.
a. We may withhold personal information requested to the extent permitted by law;
b. You may inform us at any time not to process your personal information for marketing purposes;
c. In practice, you will either expressly agree in advance to our use of your personal information for marketing purposes, or we will provide you with an opportunity to opt out of the use of your personal information for marketing purposes.
Updating Your Personal Information
Robinsons Malls shall make all reasonable efforts to ensure that your personal information in our database is accurate and updated. Should you want to access, correct, delete or update your personal information, you may send the request to dpo@robinsonsland.com or get in touch with our respective customer support representatives.
As part of our security measures, we will contact you and conduct the necessary verification measures to process your request. Once verified, we will proceed with the requested changes/s or modification/s then notify you that your request has been completed.
Withdrawal of Consent
If you decide to withdraw your consent for any or all purposes set out in this policy, you may send your detailed request to dpo@robinsonsland.com. Depending on the nature of your withdrawal of consent, Robinsons Malls may no longer be able to continue to provide you with our products and services.
PROTECTING YOUR INFORMATION:
Protecting Information Submitted Online
Robinsons Malls take precautions and place security measures to protect your information and maintain the safety of your personal information. When you submit information via any of our official website(s), social media accounts, digital platforms & mobile applications, such information is protected both online and offline.
We strictly enforce our Privacy Policy within RMalls+ Mobile App and we have implemented technological, organizational and physical security measures to protect your personal data we hold from loss, misuse, modification, unauthorized or accidental access or disclosure, alteration or destruction.  We put in effect safeguards such as the following:
We keep and protect your personal data using a secured server behind a firewall, deploying encryption on computing devices and physical security controls.

We restrict access to your personal data only to qualified and authorized personnel who hold your personal data with strict confidentiality.

Any personal data that you provide on the Mobile App is initially processed and stored by RMalls+ Mobile App using a secured connection, only authorized RMalls+ Mobile App personnel can then access and download your personal data from the RMalls+ Mobile App.

It is important for you to protect against unauthorized access to your password and to your computer. Be sure to sign-off when finished using a shared computer.
While reasonable & appropriate physical, technical & organizational measures are in place to safeguard your personal information, we cannot guarantee that the information collected or stored will be protected from all unauthorized access and thereby used in a manner that is inconsistent with this Privacy Policy.
MINIMUM AGE:
Robinsons Malls will only collect or use personal data from anyone age 18 years old and above. If you are seventeen (17) years old and below, you should secure the consent of your parents and legal guardians.
THIRD PARTY WEBSITES:
Our websites may contain hyperlinks and details of third party websites, mobile applications or online or digital sites or services that are not owned, operated or controlled by Robinsons Land Corporation. These links are provided as a convenience and service to you and we do not provide any personal information to these websites or advertisers, and therefore, we will not accept responsibility for their privacy practices. These sites are operated by independent entities that have their own privacy policies which you should also review. RMalls+ Mobile App's Privacy Policy does not apply to such other sites or to the use that those entities make of your information. Robinsons Malls has no control over the content displayed on such sites, nor over the measures, if any, that are taken by such sites to protect the privacy of your information. We therefore advise you to study their privacy policy. Once you leave our Mobile App, you should check the applicable privacy policy of the third-party website to determine how they will handle any information collected from you. If you use these links, you will leave the Mobile App and your use of the said links will be at your own risk. Neither Robinsons Land Corporation nor any of our affiliates, subsidiaries, officers or employees are responsible for any content, materials or other information located on or accessible from any other website, application, or online or digital site or service. We are in no way responsible for examining or evaluating, and we do not warrant the offerings of, off-website pages or any other websites linked to or from the Mobile App nor do we assume any responsibility or liability for the actions, content, products, or services of such pages and websites, including, without limitation, their privacy policies and terms and conditions.
COOKIES AND SIMILAR TECHNOLOGIES:
A cookie is a small file which asks permission to be placed on your mobile, tablet or gadget's hard drive. Once you agree, the file is added and the cookie helps analyze web traffic or lets you know when you visit a particular site. Cookies allow web applications to respond to you as an individual. The web application can tailor its operations to your needs, likes and dislikes by gathering and remembering information about your preferences.
We use traffic log cookies to identify which pages are being used. This helps us analyze data about web page traffic and improve our website in order to tailor it to customer needs. Data generated is not shared randomly with any other party but only to those that Robinsons Malls deem it necessary at its sole discretion in order to benefit you and improve your browsing experience. We only use this information for statistical analysis purposes, after which the data is removed from the system.
Overall, cookies help us provide you with a better Mobile App and webview, by enabling us to monitor which pages you find useful and which you do not. A cookie in no way gives us access to your mobile, tablet, gadget or any information about you, other than the data you choose to share with us. We may use your browsing behavior to develop promotional offers, products, and services that we feel are beneficial to you.
Most web browsers automatically accept cookies, but you can modify your browser to refuse or delete cookies. If you disable all cookies, you may not be able to take advantage of all the features of this Mobile App.
For you to fully enjoy your visit and browsing experience, only non-identifiable web traffic data are collected and analyzed, including:
- Your IP address;
- The search terms you used;
- The pages and internal links accessed on our Mobile App;
- The date and time you visited the Mobile App;
- Geolocation;
- The referring site or platform (if any) through which you clicked through to this Mobile App;
-Your operating system, and browser type.
Use the options in your mobile phone, tablet or gadget if you do not wish to receive (a) cookie(s) or if you wish to set your browser to notify when you receive (a) cookie(s). If you disable all cookies, you may not be able to take advantage of all the features of this Mobile Application or in-app website webviews.
Most mobile devices provide users with the ability to disable permissions (e.g., location services). Most likely, these controls are located in the device's settings menu. If you have questions about how to disable your device's location services, we recommend you contact your mobile service carrier or your device manufacturer.
UPDATES TO THE PRIVACY POLICY:
Robinsons Malls may update this Privacy Policy to apply changes due to new laws and regulations affecting the Data Privacy Act or amendments thereto, changes in our business operations and environment. Any updates or changes will be posted on our official website.
HOW TO CONTACT US:
For any comments, questions, complaints or requests relating to this Privacy Policy, you may get in touch with:
Data Protection Office
Email: dpo@robinsonsland.com
Telephone: (632) 397-1888 local 31185
Mobile: +639988403172